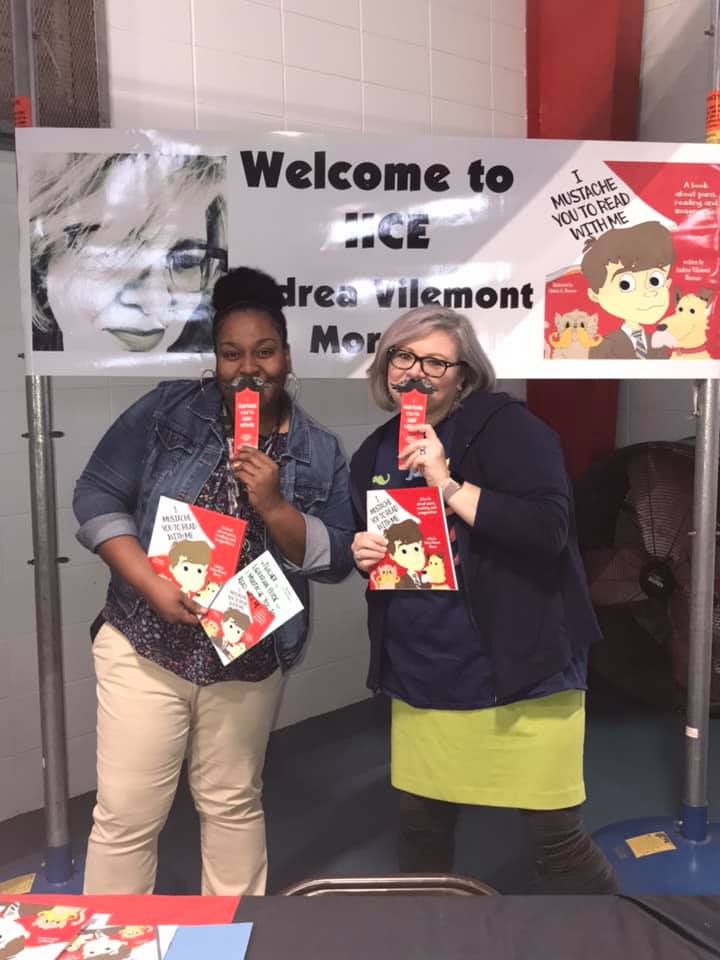 Invite Andrea to come to your school! Use the contact page to inquire about a visit or call 228-342-3240. FREE author visits within 60 miles of the Mississippi Gulf Coast.
Once you schedule a visit with Andrea, you will be sent:
a contract for your administration to sign regarding her visit
a color poster for you to copy to announce her visit to your faculty and students
order forms for students and parents to pre-order Andrea's book
a reminder note to send home right before her visit
a media kit including press release
a copy of The Teacher and Librarian Guide to I Mustache You to Read with Me
a copy of the book to pass around to classes and for the librarian at your school to use to promote Andrea's visit
Andrea can present to small groups as well as large assemblies. Her presentation is most suitable for grades K through 5 and can include the following:
Visual representation and reading aloud of the book using projector and laptop
Many audience members (students) are chosen to act out the book using LOTS of fun props
The inspiration behind her book
Interesting facts about the English language
Writing tips on figurative language
How to create your own book
How to get started writing
Ten to fifteen minutes of Q&A with students
Books can be autographed ahead of time or during students' lunch or during a special autograph time that you assign.
*Andrea can also provide after school staff development (Title I) on topics such as storytelling and read-alouds, best books for children and how to use them in your classroom, developing and using reader's theater in your classroom, and a variety of topics on using technology in the classroom.
Andrea does not charge for visits in Mississippi, book signings, and presentations. If your location is very far (requiring air travel, or extensive car travel, and overnight stays) Andrea does charge a nominal fee to offset these costs.
Andrea asks that you get students excited about her upcoming visit and encourage students and parents to purchase her books. Send home several announcements ahead of her visit in addition to the order forms. Extra copies of her books will be on hand for students who may forget to order. Andrea will autograph her hardcover or softcover books and also her special bookmarks (sold for $1.00). If you are outside of Andrea's home town and there are other elementary schools in your district or nearby, try to encourage those schools to schedule a visit with Andrea, also.
To get ready for Andrea's visit, she requires:
a table for her laptop and projector OR your laptop and projector for her flash drive
a table to place props
a place to plug in laptop and projector
a large screen for projector
a clear area between the seated students and screen
a group of eager, well-prepared students
teachers remaining with students throughout the presentation